PRESS RELEASE
Monday 5th January 2009 – For immediate use.
Official 2012 Olympic Mascot Design Competition Result
Bobby Bulldog™ designed by UK Illustrator Jody Barton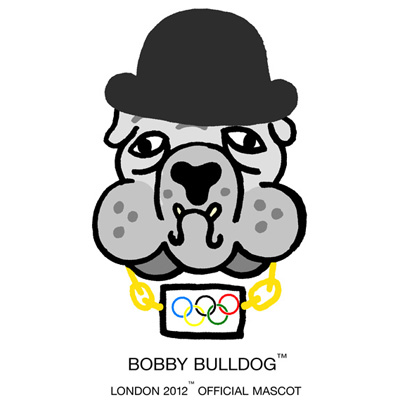 We are very pleased to announce that Jody Barton's entry of Bobby Bulldog™ has been successful in being chosen as the official mascot of the London 2012 Olympic Games. As well as the honour of seeing his design chosen, Jody Barton will receive £100,000 as a joint prize and license fee for the character.
Jody Barton said "…although normally the ethical considerations of working for the International Olympic Committee with it's horrendous record on ignoring human rights violations and persistence in stating that despite the Olympics being a competition between political entities is itself in no way political, I felt that the huge fee of £100,000 just for doing a shit cartoon justified my actions…"
We felt that the dynamic Bobby Bulldog™ with his bowler hat was both traditional and modern and represented the vibrant multi-ethnic and multi-cultural powerhouse that Britain is today. It's also quite Britpop.
There will be various 'flavours' of Bobby Bulldog™ to represent diverse segments of British society – such as Big Gay Bobby Bulldog™ and Asian UK Bobby Bulldog™ for example. Other variations such as Emo Yeah Bobby Bulldog™ and Ethical Green Lobby Bobby Bulldog™ are being actively considered.
There will be merchandising opportunities for manufacturers to bid for in the coming months. Please ensure you are signed up for the Official Olympic Suppliers terms to receive these notifications.
thank you,
London 2012 Olympic Press Office.
NEWSFLASH!
Bobby Bulldog™ has been chosen to be depicted on the Official 2012 50p Coin. And the best thing is that the coin will only cost 50 pence from all good newsagents. Simply go to your newsagent and ask for change from a pound. Your newsagent will be able to give you TWO Bobby Bulldog™ coins (subject to availability).