After I started thinking about designing my own confusing patterns for prototype vehicles, I remembered the obsession with Army camouflage in fashion and design. Probably the most interesting 'real world' camouflage is the 'Dazzle' system of painted disguise for warships used extensively in the First World War.
http://en.wikipedia.org/wiki/Dazzle_camouflage
I've always thought it was pretty cool, and there's a definite un-remarked upon relationship between the desire to break up the shape of a battleship and the desire to break up the new curves of a yet to be announced motor car. Maybe the car prototype disguisers could learn a thing or two from the dazzle idea.
And Jeff Koons has done an amazing job on some rich person's yacht too. It's called the 'Guilty'.
http://yachts.monacoeye.com/pages/guilty_001.html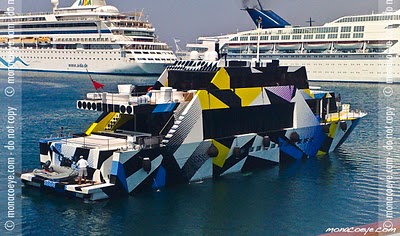 And last – but definitely not least… Patricia van Lubeck's scatter patterned car.